en
A hidden gem
Nestled on a remote square away from the crowded Boulevard des Italiens, the Opéra Comique is one of the best kept secret in Paris.
Founded during the reign of Louis XIV, in 1714, the Opéra Comique is one of the oldest theatres and music halls in France, together with the Opéra de Paris and the Comédie Française. In 2005 the Opéra Comique was finally registered as one of the five National Theatres and in 2015, it celebrated its 300th anniversary !
The place is iconic for having witnessed the creation of internationally renown master pieces such as The Damnation of Faust by Berlioz, Lakmé by Delibes, The Tales of Hoffmann by Offenbach, Pelleas and Melisande by Debussy and L'heure Espagnole by Ravel…and more importantly the creation of Carmen, by Georges Bizet and of Manon by Massenet. The two rebellious women have been greeting audiences in the great hall of the Opéra Comique to this day.
Two fires and a listed monument
After two fires, the Opéra Comique was rebuilt in 1898 near the Grands Boulevards, on land donated by the Duke of Choiseul in exchange for a lifetime box at the opera house. The Opéra Comique is also named the Salle Favart after Justine and Charles-Simon Favart, librettist and playwright, who both led to its development.
When it was built, the current Salle Favart was considered on the leading hedge of technology as it was fully equipped with electricity. The architectural gem is now listed as a historic monument.
Creation and transmission
While creation, baroque and three centuries of repertoire are always at the heart of its programming, the Opéra Comique places the 2022 season under the banner of travel and  openness to new audiences. My First Opera Festival, dedicated to families, comes back for its third edition in April, our partnership with the Music Festival of Beijing will finally take shape with the creation of Madame White Snake, the Nouvelle Troupe Favart and the Maîtrise Populaire will keep on blooming.
Eventful history, recovered memory
The Opéra Comique's history is marked by closures, fires, creations, international artistic successes and innovations. With a detailed chronology and a platform dedicated to its archives, the opera house strives to invite all audiences to enter its history
Did you know?
"comic opera" refers to the genre regularly programmed at the Opéra Comique. « Comic » does not mean it's funny or supposed to make you laugh…. but designates a theatre genre mixing the sung and the spoken. Comic opera therefore defers from opera, which is entirely sung.
Comic opera is somewhat the forerunner of the musical genre !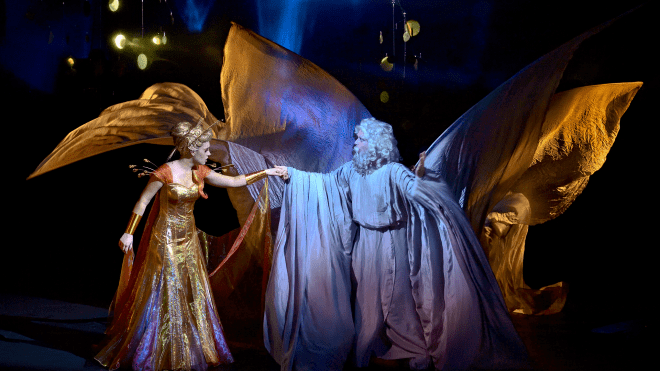 Some pictures of our operas
The team
The Opéra Comique has been a national theatre since 2005. Over 110 people work here and continuously contribute to its productions and prestige.
On 1st November 2021, Louis Langrée became the director for 5 years.