en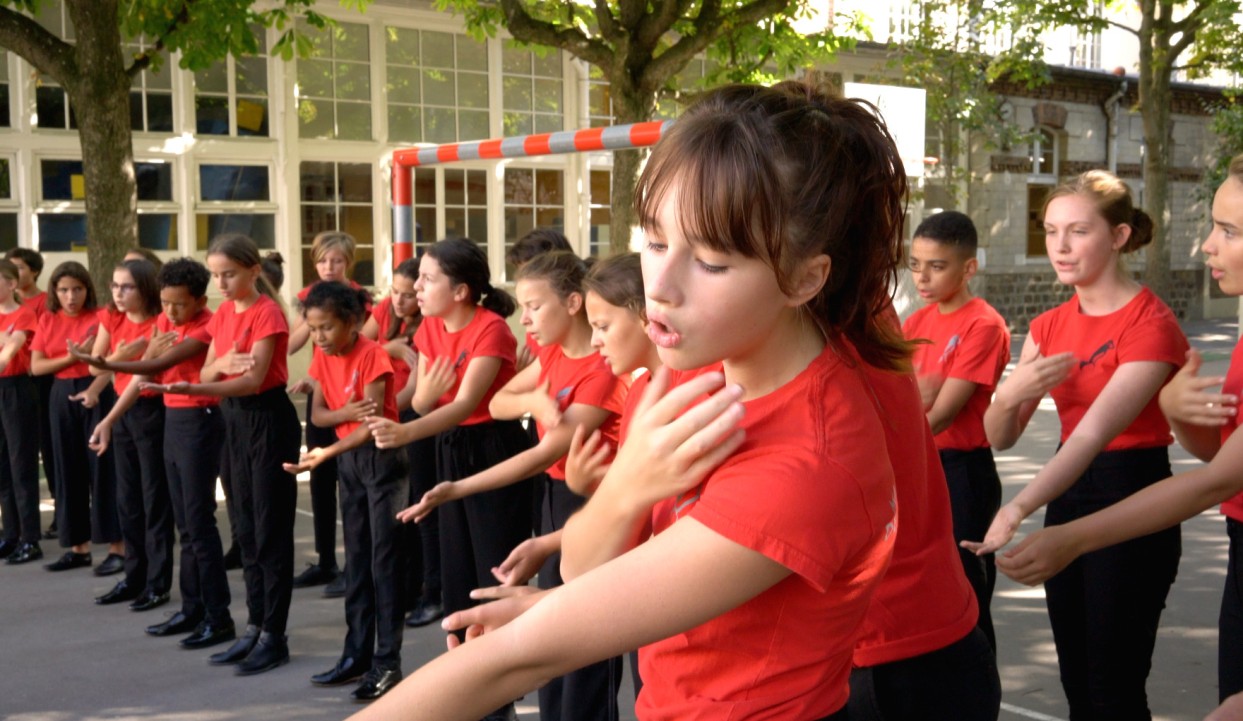 Monday September 2nd
On this first day of the new school year, the first sound of the siren can be heard. This siren is going to be heard several times a day to announce the beginning of classes, recreations or school meals like every year. For the schools A and B at 41 Rue de Tanger in the 19tharrondissementof Paris, it's recreation time at 3.30 pm. Although the summer sun is still shining, summer silence in the two empty schoolyards give way to the cheerful cries of bustling pupils at their favorite games. Among them are beginners to the Maîtrise Populaire of the Opéra Comique.
This is the school year's novelty for school B, welcoming 20 elementary school pupils who might become future students of the Maîtrise's first cycle. They'll enjoy a special timetable in order to follow their course at the school of Rue de Tanger throughout the school year. A breakthrough hailed by the director of the Maîtrise, Sarah Koné: "This is the follow-up of the adventure with beginners who will join the maîtrisiens(students of the Maîtrise) with a specific timetable… and it's quite something for us to settle in the 19tharrondissement." A significant choice indeed as social diversity and access to culture are among the fundamentals of the educational scheme led by the Maîtrise Populaire of the Opéra Comique. A scheme jointly backed by the Paris City Hall and the education authority, content to see Sarah Koné's pupils come to a wealthy and proletarian arrondissement: "This is part of our common willingness to enrich and broaden the repertoire and circle of the pupils of the Maîtrise to neighborhoods in which people don't spontaneously think or feel like approaching them." François Dagnaud, the mayor of the 19tharrondissement, tells us.
Shortly after the recreation at about 4 pm the pupils of school B walk back in two rows to the schoolyard, the one in the back, where they sit down. A rather unusual gathering at such a time, especially on the first day of the school year. This is part of therentrée en musique(start of the school year in music) set up by the Ministry of Education for which the pupils of the Maîtrise inaugurate the new course by offering a short concert attended by primary schoolchildren in the presence of Christophe Girard, the deputy mayor in charge of culture, François Dagnaud, Jean-Michel Coignard, several members of the education authority and pupils' parents. 
As everybody sit down, voices can be heard in the distance. Pupils of the Maîtrise wearing red T shirts and black trousers appear in the schoolyard for the concert. They sing five arias: three arias from Petites voixby Francis Poulenc, La lune est morteby Jacques Mareuil andIf love's a sweet passionfrom Henry Purcell's The Fairy Queen. In the audience, the children seem to be delighted and each piece is greeted with loud applause. According to Christophe Girard, "No doubt what we saw here deeply moved the children of this school which is indisputably the twenty-first century school. The school of diverse origins, of a mixed Paris, of a daring Paris."
Extracts from the concert for the start of the school year at Rue de Tanger with the Maîtrise Populaire of the Opéra Comique