en
The Health Pass is mandatory for people over 18 until 30th September 2021 (Decree art.47-1, II) and for children over 12 from 30th September (Law  2021-1041, article 1).
You must be able to present one of the following 3 documents:
Either a negative virological test result (negative RT-PCR or antigen test enabling the detection of the SARS-cov-2 N protein) done less than 72 hours before the performance (inflexible time-limit between test time and check time);
Or a full vaccination certificate;
Or a covid contamination recovery certificate (including a negative RT-PCR test result done at least 11 days but no more than 6 months before the performance).
More information:
The full vaccination certificate must:
refer to a vaccine recognised in France ( https://www.gouvernement.fr/info-coronavirus/vaccins ).
Vaccines recognised on the territory and within the application of the Health Pass are those that have been approved of by the European Medicines Agency (EMA). Foreign vaccination certificates are only valid if the vaccines are recognised by France and the EMA.
include the recommended number of doses and the time-limit set for the vaccine's effectiveness:
Seven days after the second shot for two-shot vaccines (Pfizer, Moderna, AstraZeneca); Four weeks after the shot for one-shot vaccines (Johnson & Johnson); Seven days after the shot for vaccines administered to people who have already had COVID-19 (only one dose is necessary).
On the territory, anyone, whether French or foreign, can be tested and retrieve negative test evidence of less than 72h.
All supportive evidence must include a QR code than can be scanned on pass control:
The Health Pass is in the form of a 2D-DOC QR Code than can be imported in your smartphone's TousAntiCovid application (in the Certification&Health book section), or that can be printed. If you wish to present a printed document, please do not fold the QR Code page.
You can download your 2D-DOC QR Code via the link received by SMS after your test (SI-DEP secure platform where all results are recorded) or at the end of a full vaccination process (hand-delivered by the health care professional or downloadable on attestation-vaccin.ameli.fr).
Scanning the QR Code on your application or document will only give access to your ID and date of birth, without any other personal detail. The validity of your Health Pass will only be determined by the screen message "valid" or "invalid". No data will be retained. This system has been validated by the CNIL (Commission Nationale de l'Informatique et des Libertés (National Commission on Informatics and Liberty)
Any authorised evidence of non contamination to Covid must include a QR Code, laboratory results cannot be relied upon.
Authorised evidence can be presented at your convenience:
Either on your smartphone (via the section« My health book » on the ousAntiCovid, application, which includes the QR Code, certifying its validity)
Or on a printed document or pdf (including the QR Code certifying its validity).
For more information, you can also consult the following page: www.gouvernement.fr/info-coronavirus/pass-sanitaire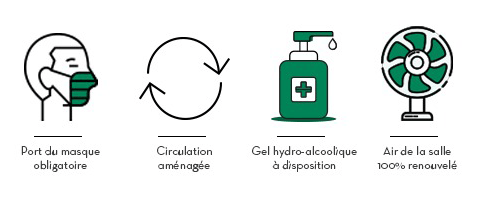 We make every effort to welcome you in the best possible conditions:
Wearing a mask is mandatory for all (from 11 years old, recommended from 6 years old) in all the opera house' spaces and during the whole performance. Exception is made for people suffering from disabilities and upon presentation of medical evidence. Artists on stage are exempted from wearing a mask during the performance.
The cloakroom is closed. Only helmets will be taken care of.
You are allocated a seat number, please do not change seats.
Exiting the opera house will take place in a progressive manner. Please, follow the instructions of our reception staff.
The opera house's central ventilation systems use 100% renewed air (not recycled air)
Reception areas are disinfected on a regular basis according to relevant safety standards. Hydro-alcoholic gel is at your disposal in the entrance.
For any questions regarding the box office, we kindly encourage you to call us on +33 (0)1 70 23 01 31 or send us an email at billetterie@opera-comique.com
For your bookings, please also favour e-tickets. You will receive them by mail 48 hours before the performance (please check your emails and spams as the date approaches).
Last minute bookings will be made on site, at the booth rather than in the opera house
Booking is compulsory for free events.